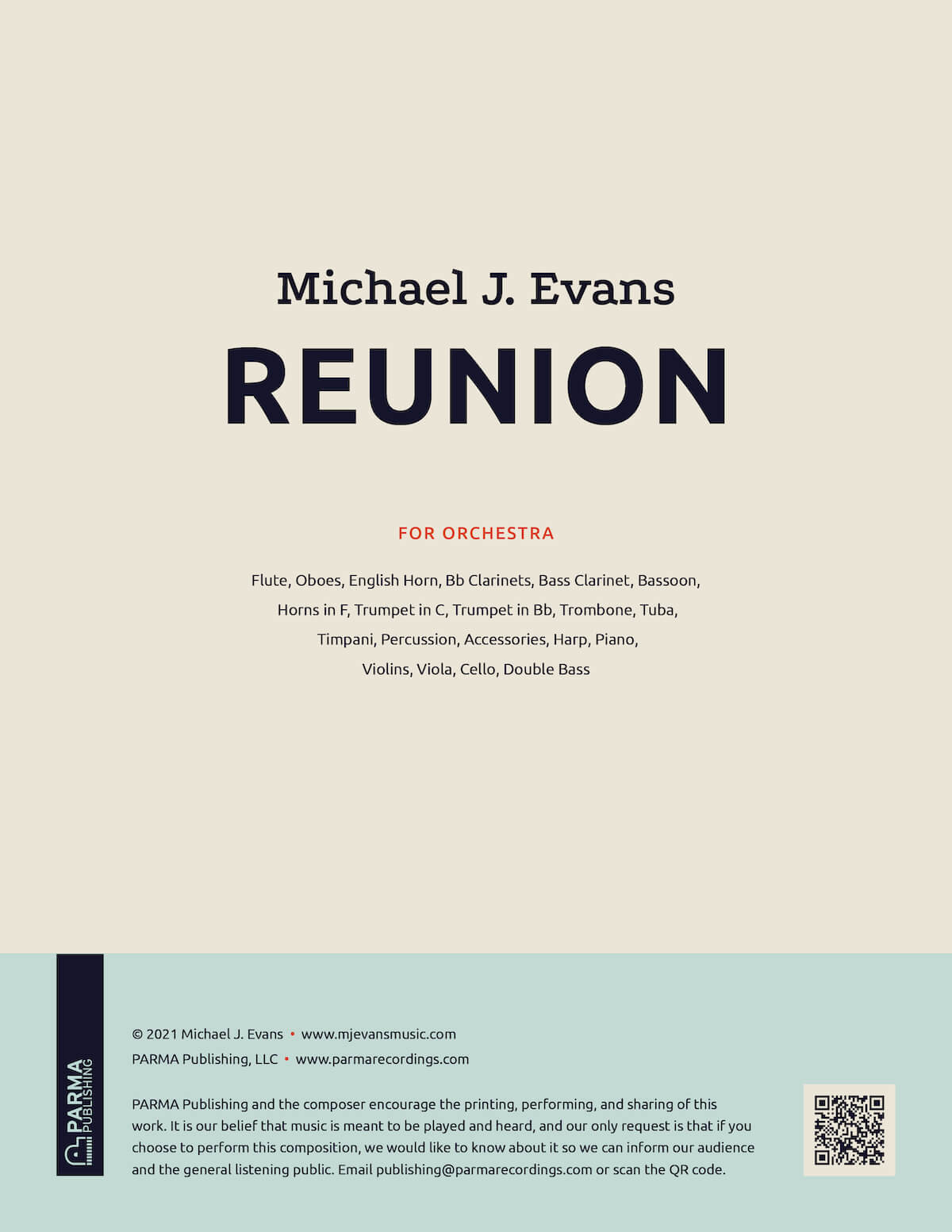 Reunion
Composed to celebrate our return to social life post-Covid, the music emerges from our experiences during lockdown, including the isolation and self reflection that was a major part of our world at that time, and concludes with the sounds of some of the various celebrations and life events that were missed during lockdown.
Filetype: Score and parts
Format: Digital PDF (score: 11"x17")
Instrumentation
flute, 2 oboes, English Horn, 2 Bb clarinets, bass clarinet, bassoon, 2 horns in F, trumpet in C, trumpet in Bb, trombone, tuba, timpani, percussion, accessories, harp, piano, 2 violins, viola, cello, double bass
World Premiere
The Portland Youth Philharmonic
Bauman Auditorium, Newberg OR
Listen
World Premiere Concert
Notes
From the Composer
For musicians, one of the biggest impacts of the pandemic was not being able to play together. Without being able to play together, there was no need to tune instruments to one another, and that is where the piece begins.
The opening sound is the oboe playing a tuning "A", essentially a call to others, with no response. The members of the orchestra begin playing individually, unaware of the other players, while quotes about isolation are read. When the players realize they are not alone, they begin playing the "A" together.
A contrapuntal section in which the players and their respective sections begin introducing themselves and their characters, follows; like a group gathering where everyone becomes reacquainted. Once all the instruments have entered, they embark on a set of variations based on the drinking song, "Whisky in the Jar".
The players and their respective sections within the orchestra are reintroduced, imitating the initial contrapuntal introduction, this time, in a salsa inspired variation. Whereas the initial entry of the players was chaotic, reflecting our initial awkwardness at coming together after isolation, the salsa variation is a dance, expressing our comfort in functioning within a group and finding our rhythm or groove again.
The piece concludes with music associated with some of the various celebrations and life events that were missed during lockdown: birthdays, weddings, graduations, etc.
This sheet music is offered at no cost. PARMA Publishing and the composer encourage the printing, performing, and sharing of this work. It is our belief that music is meant to be played and heard, and our only request is that if you choose to perform this composition, we would like to know about it so we can inform our audience and the general listening public. Email publishing@parmarecordings.com or visit parmarecordings.com to share information about your performance or request additional scores.