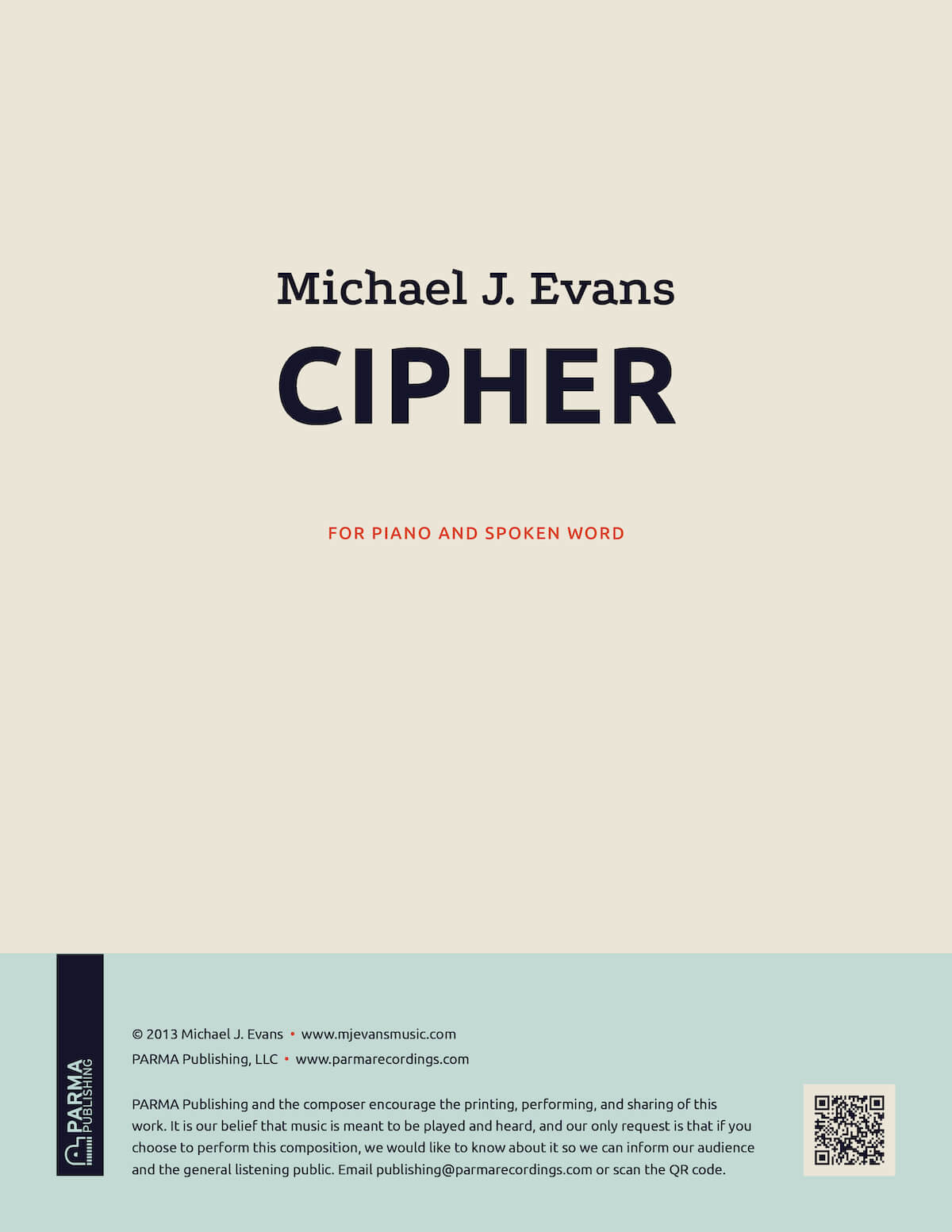 Cipher
Variations 1-24 and Fugue
This piece explores the relationships between words, music, and meaning. The piece was written at a time when translation software was much less accurate than today. A spoken word excerpt from Felix Mendelssohn, which has been translated to English with one software, the result then translated into another language with a different software, then back to English with another software, then to another language. The process is repeated, and the translation degrades with each successive translation. The words fade into a theme and variations on Mendelssohn's Songs Without Words.
Filetype: Piano score and spoken word part
Format: Digital PDF (8.5 x 11")
Duration
24 short variations between 0:30-3:00 each, Fugue 11:15
Listen
from the album CIPHER
(2014 Navona Records)
Notes
From the Composer
Cipher began as an experiment with translation software and a desire to do a piece that dealt with our relationships with technology. Having friends all over the world, many times I need to translate their Facebook posts into English using some kind of tool. We have all discussed how funny, and or, confusing the resultant translations can be.
Translation software is wonderful, but the difficulties in translating languages are enormous. Even if you don't factor in syntax, there are expressions that make no sense when literally translated, not to mention the subtleties of context and connotation, as well as slang.
There are more philosophical considerations too. If I say the word tree or water, the image that comes to mind is going to vary from person to person depending on their environment and exposure. For a tree, it could be a pine, palm, or oak. Similarly, water could evoke the image of a stream, pond, or ocean. When we get to emotions, words like love can have radically different associations depending on a person's experience. I recently discovered there is a whole area of study dealing with this topic called psycholinguistics.
All of this gave me an idea: I wondered what would happen if I took a quote about the inadequacy of words and translated it into another language using software, then, translated it back into English with another software. Furthermore, what would happen if I took the result, (the corrupted translation), and did it again, in a different language? How long would it take to degrade to nonsense? Would it take on different meanings?
This sheet music is offered at no cost. PARMA Publishing and the composer encourage the printing, performing, and sharing of this work. It is our belief that music is meant to be played and heard, and our only request is that if you choose to perform this composition, we would like to know about it so we can inform our audience and the general listening public. Email publishing@parmarecordings.com or visit parmarecordings.com to share information about your performance or request additional scores.